Only $24.00 plus tax; shipping & handling may apply. This brand-new, non-WVGES publication has over 300 pages full of gorgeous color photographs, charts, maps, and descriptions.
Description from the cover
:
Within West Virginia's irregular borders, formed by winding rivers, high ridges, and the peculiarities of colonial land surveys, is a sedimentary record of the entire Paleozoic Era. Continents colliding along the eastern coast of North America built huge mountains that shed sediment into a shallow inland sea to the west. Thick wedges of sandstone, shale, and limestone piled up, all folded by later collisions to the east. In West Virginia's Valley and Ridge Province, resistant, tilted sandstones form long ridges that parallel the fold axes, while less folded rock forms the horizontal layers of the Appalachian Plateaus to the west. From Harpers Ferry at the edge of the Blue Ridge through the Allegheny Mountains west to the Ohio River valley, sedimentary rock thickens and thins, hiding valuable layers of coal and reservoirs of oil and gas. Authors Joseph Lebold and Christopher Wilkinson lead you along roads through the Mountain State, past roadcuts exposing contorted rock layers, coral reefs, and ancient red soils. Sidebars provide more details about iconic places such as the New River Gorge, Seneca Rocks, and Dolly Sods, and about unusual geologic features such as the riverless Teays Valley and the karst topography and caverns of the Big Levels.
More information about the book and the authors is
here
.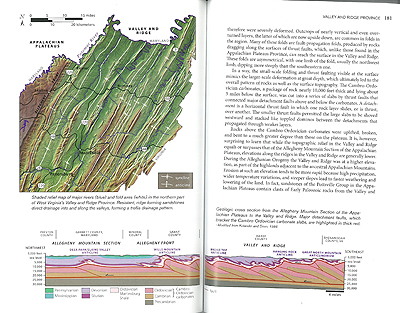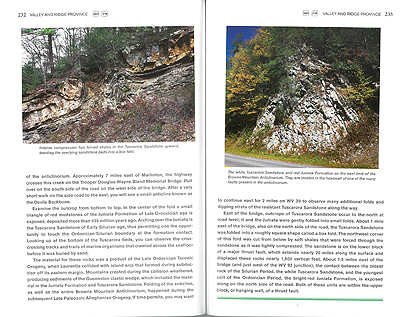 About the Authors
:
Joseph Lebold
is a geology professor at West Virginia University (WVU). He earned a BS in geology from WVU in 1994. After completing his master's degree in paleontology at Ohio State University on ancient reef communities, he returned to WVU in 2001 to complete a doctoral dissertation on the marine invertebrate fossils found among the vast sequence of sedimentary rocks containing West Virginia's coal reserves. Since 2009, Joe has taught geology at WVU, including a popular course on the geology of West Virginia.
Christopher Wilkinson
, a musicologist specializing in African American musical culture, taught music history and writing at WVU's School of Music for thirty-seven years, retiring in 2013. Having a layperson's interest in geology ever since taking two courses in the subject at Hamilton College in the 1960s, he has traveled all over West Virginia looking at rocks and encourages others to explore the fascinating geologic history of the Mountain State.
Photographer
:
Maria af Rolén
, BS Geology, WVU 2016
Publisher
: Mountain Press Publishing Company, ISBN-13: 978-0-87842-683-6